We are home from an extended weekend and it was faaaantastic! I am still enjoying the afterglow. On Saturday Garrett caught his very first fish! It was so funny to see his reaction, he squealed so LOUD (and high-pitched) and almost dropped his pole as he jumped up and down. Check out our budding angler!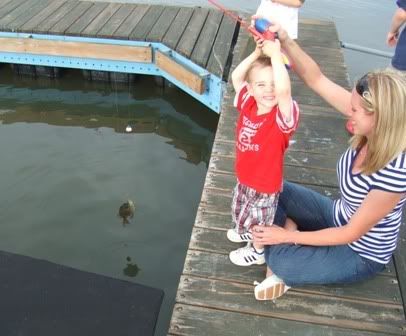 Sunday we checked out African Safari in Port Clinton. What a beautiful drive! I'm from the Sandusky area but I've never been to African Safari until now. They have deer, zebras, a giraffe, buffalo and a ton of animals for you to see UP CLOSE and personal! I thought the boys were going to explode they were laughing so hard. I think it's a total must-visit if you are in NE Ohio..it's totally worth the trip! Here is Grant feeding the buffalo. Btw, you are not supposed to "hand-feed" them, they give you a cup and you put the carrot inside for them to grab (we didn't see that sign at first, woopsie)! Check out the buffalo's pointy black tongue…ewww!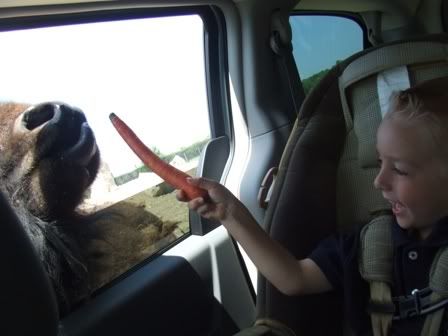 We finally ended up at Kalahari water park to top off our trip. I learned it's defintiley worth it to take a day off and go on an off-time. We checked in Sunday evening and it was perfect! Everyone was just leaving from the weekend and Monday morning we had the slides and pool to ourselves practically. Well, for a while anyway.:) They have the best dessert counter ever, and I am very picky so I don't say that easily! The boys picked some ice cream and chowed down until their bellies were content.
What a wonderful time! I am just so grateful for the family time and the blessings of the weekend. We have more than we need, and certainly more than we deserve and my hope is to appreciate every single gift along the way. We really did this weekend. Summer is HERE and it feels great!