Molly is officially a church-goer! Ha. In my faith we celebrate the feast of St. Francis of Assisi (he had a great affection for all animals) and many people and churches celebrate in different ways. A parish down the road from us today had an outdoor mass for pets! We were so excited to be able to take Molly! It was fun, they set up folding chairs and invite anyone with ANY kind of pet to come worship and also get a pet blessing. We had a great time and Molly was such a good girl. We saw hamsters, cats, a ton of dogs and even an Alpaca! It was such a beautiful day too. It was also nice to go to church together because every week we put Garrett in the nursery and this time he could join us (and he did good too)!
Here we are before mass!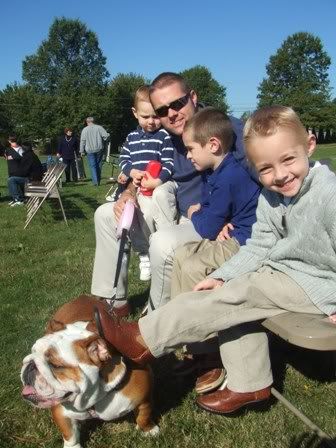 Here is another picture of Molly.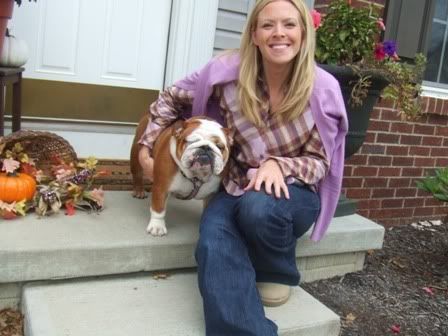 So, overall things are wonderful. She is a good girl, and the boys LOVE her. I recommend anyone considering a pet…go for it. I know we are still in the honeymoon period so things could change, but so far we are very happy. I know a big part of it was we did our research this time.
Oh! I found a fun new website. It has instructional videos and experts telling you everything from how to apply sunless tan lotion, to how you know when your in labor (not like you need an instructional video for that one)! lol. It's www.Howdini.com