We had such a great day today. Some days are challenging, other days you just want to freeze because they are so good. Today was one of those with the boys. Last night as Grant was helping me carry laundry upstairs, he commented that the big bundle made him look like he had a big belly, "like Santa". So jokingly I said: "you are Granta Claus"! We giggled and that was that. Well, today he took that and ran with it! He wanted to dress up like Santa and drive a sleigh and deliver toys. So we made a beard (that kept falling down) and we made up a story that Santa Claus got sick, so Granta Claus had to finish the delivery! I think we may make another home movie with that theme, it's just waiting to happen! Lol. Here are some pictures:

He's saying "Ho Ho Ho", and Molly was his reindeer!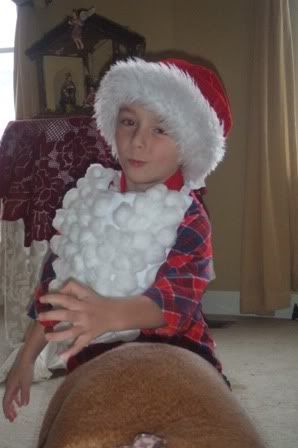 Granta Claus has his sack of toys and is ready to hit the road.