It's tough to find time to sit down and read, but I really love the moments when I can dig in to a great book. The neat thing is, with my job we are always getting new books have a great pool to choose from. So just for fun, I decided to compile a little list of some of my recent and all-time favorites. If you are stumped for a good gift ideas, maybe one of these will work!:) I'll break it down by categories:
Parenting:
Bringing Up Boys by James Dobson. A great insight into the minds of boys, and the importance of raising strong men in our society today. This had such a big impact on me, it's a classic.
10 Conversations You Need to Have With your Children by Rabbi Shmuley. I will continue to appreciate this book for years to come. Full of wisdom and a great way to partner what we learn in the Bible, with today's challenges.
For the Person who Loves a Good Novel:
The Shack. I have not read this yet but I can't wait to check it out. I've heard amazing, rave reviews about this book. The website is very intriguing, it looks like a very powerful piece of work.
For the Guy in Your Life: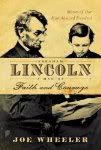 Abraham Lincoln: A Man of Faith and Courage by Joe Wheeler. Few things have inspired my husband like this book has (aside from the Bible). A quick read but a deep and honest look at the heroic virtues of Lincoln.
John Adams (the HBO miniseries on DVD). I cannot say enough about this. I still say every American needs to watch this! It is long, it is not always easy to understand (we turned on the subtitles) but it is INCREDIBLE. An especially great gift for anyone who loves history.
For Girls


All Things Girl
by Teresa Tomeo. The truths presented are poignant, easy to read and wholly inspiring- helping every girl understand that her real identity begins as God's beloved daughter.
For Boys
The Dangerous Book for Boys. I've raved about this one before. It's the ultimate book that every young man should have in his library. It teaches everything from Morse code and disappearing ink, to history, faith, how to talk to girls, and much more. We love it.
Health



Eat this, Not that. This is such a handy little guide! If you are looking to eat healthy, lose weight (or both) it's very helpful. It has pictures and suggestions as to what to order at fast food restaurants. I have found this really helpful. Now they have a book for the grocery store too.
I know I am missing several but those are the ones I can recall right now. If you have any good ones, feel free to leave a comment. I am turning that feature back on, I welcome your feedback.:)