Happy Thanksgiving! I hope yours was filled with lots of great food, family, and good dessert.:)
We kept things pretty low-key but it was perfect. The weather was actually beautiful so we got the turkey in the oven and took a family walk. Molly even came with! I think it might be a new family tradition. Here we are taking a pit-stop along the walking path.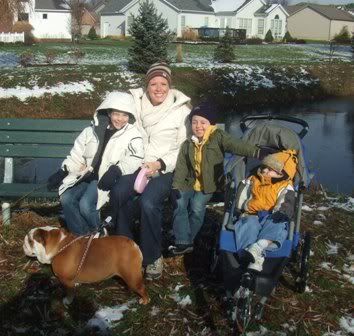 I had planned to go out early on Black Friday but it didn't happen. I get up at 3am enough on a weekly basis, I figured I would take a pass if it meant missing some deals.:) I got out there about 11-ish and still snagged some goodies. Although I did discover one of Gabriel's requests is going to be tough to track down. Evidently "Bakugan" is one of the hot items of the season. I had no idea! A buddy gave him one for his birthday and he's been asking for a bunch (along with trading cards). A fellow mom at Target in the empty Bakugan toy isle, informed me that I stumbled upon the latest craze. Great! Why can't Gabriel request a chess set?! Actually, it's the only "toy" on his list (he asked for a telescope, scouting items, etc) so it's not too bad. I'll keep you posted if I find any. Oh, and if you know of a shipment coming anywhere in NE Ohio, please let me know!:) Lol.