I've learned something. When it comes to looking for outdoor apparel, it pays to shop around! We have several outdoor trips planned and we want to make sure everyone is prepared with the right gear but I wasn't prepared for the sticker shock on the performance pants, shirts, and boots! I guess if you are just buying one thing at a time it might not be bad but when you have to outfit the family it gets pretty pricey. Take for instance these pants.

They are from Athleta and are just what I was looking for. Price tag? $79! Ouch. No-can-do. I did get good advice from our friend Chad who is an expert backpacker (and fashion finder). Lol. He said to check out: Campmor, Sierra Trading Post, and REI. I was encouraged to see MUCH better prices there.:) Dick's also has a pretty good section for women/men hiking clothes but these websites will be good sources for the boys especially.
These are the same kind of pants (but convertible…even better) for $26 from Sierra Trading Post. MUCH better!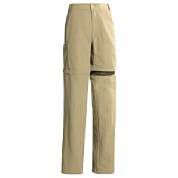 I think part of the appeal is that I wore my hiking shorts over the weekend and realized it's a good way to go! Comfortable and versatile. I recently read an article about how bad flip-flops are for your feet and although I denied it my whole life, I know it's true! Lol. They are just so comfortable (and cheap) though I live in my flips during the summer. If I wear sports hiking shorts though, my tennis shoes are a good pairing and I know that is so much better on the feet. I guess like anything, the more you probably shop around, the better deals you can turn up. Just be careful if you are looking too, don't get priced gouged on the gear!:)