I know it's early for Christmas cards but I am excited to report, we have one special delivery officially en route! The card and needed a little extra attention so we sat down and wrote it out today. You might remember a while back, Lisa Henedy posted information about how to receive a holy card from the Pope. We tried it last year and sure enough, it worked! It was neat to get it in the mail (a break from the monotony of bills)!:) The kids were excited too. Here is what we received from the official Vatican Secretariat of State: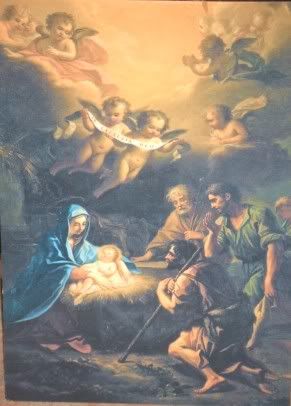 I've kept it out ever since because it's so beautiful.
Just send a Christmas card to this address:
His Holiness
Pope Benedict XVI
Vatican City State
Europe
No zip code needed, I like that. Lol.
And just for the sake of reminiscing….good times at the Vatican and amazing Rome earlier this year. I was wishing I could ride along with that letter for another trip! Oh the memories…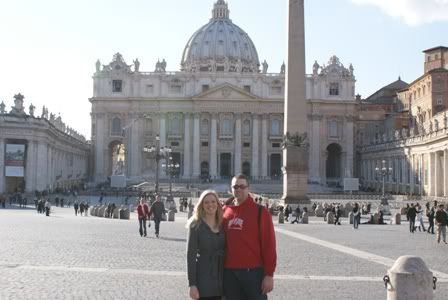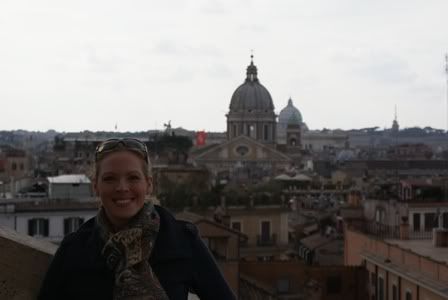 On another note, what do you think of this candle?! Over the weekend I popped in to one of my favorite stores with unique, primitive country items. It's called the "Pine Cone Gift Shoppe" and everything is so original and wonderful. The owner said they got a shipment of 1500 of these candles and they were wiped out within a week! This is a hole-in-the-wall store so that is pretty surprising in and of itself, and he said I was getting the last one (or so he claimed). Either way, the ploy worked and I snatched this baby up and took it home! I didn't even need to light it and our entire kitchen smelled like cozy Christmas cabin. I need to work on getting a nice stand or candle holder for it but that will do for now. If you are looking for a good gift idea, you can't go wrong with a candle like this! Here is the website (it does not nearly represent the actual store) it's definitely worth a visit in person.:)