Happy Halloween!
Introducing: Woody, Luigi and Mario! Ready for a fun-filled evening of trick-or-treating.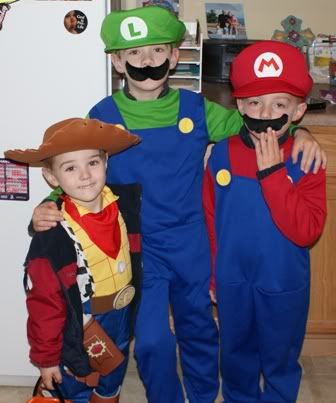 We're off! Garrett had a conniption fit about his candy bucket so in the end we went with a Gap bag. It got the job done! Lol.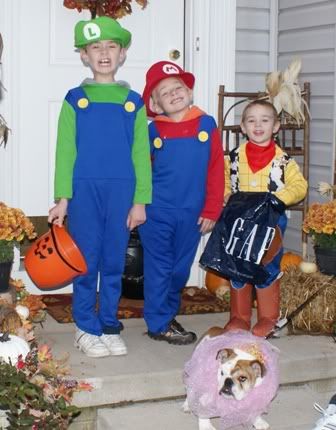 Clementine had the honor of wearing her mommy's costume from last year. Just like Miss Molly, she wasn't too enthused either!
Also, check out her cherry eye. It's something bulldogs are prone to. Poor thing.:(
Hope you had a great day too!:) Sunday is All Saints Day and I am glad it falls on the weekend. I am trying to have big Sunday dinners with my parents and brother and so far we are doing pretty good!:) This will be our third consecutive "roast week". We are trying to make the Sabbath extra special and it's one of the tips I've adopted from the "Grace and Gifted" book. I also found some good All Saints Day prayers to commemorate the occasion. Then Monday we will remember the solemnity of All Souls Day. Usually, we visit a local cemetery as a family and pray the Rosary as we walk around. The first time we did it I was surprised how much we all enjoyed it. We read the grave stones, pray for the families and for the faithful departed. It should be a nice day to do it!