Today is "UP" day! Thanks for the comment about the DVD:
"Check out Walmart – appears to be $6 cheaper!"
I swung by the store at 4:20 this morning; that is a nice perk of doing a morning show, no one is out at 4:00 if I need to hit the store.:) The Target ad included a "wilderness journal" as a bonus which Wal-Mart did not have. That one will be a bit more, but the basic DVD at Wal-Mart is $14.97.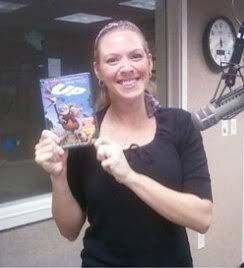 On a totally different note, I just have to link up this video. The headline says: "Girl Gets Flu Shot and Now Can Only Walk Backwards". I thought it was a joke at first…what a bizarre headline. Then I started watching it and felt awful, what a sad story! I am sure the odds of this happening are one-in-a-million (or more) but I just have to post because it's so interesting. Click here for the video.