Vacation is so much fun!:) This is the first time that I can remember that we've been on vacation but haven't left town. It's nice. We've had a good mix of relaxing (yay for sleep), cleaning and catching up on laundry, etc. and doing little fun things here and there. Oh, and the SALES! Oh my word, Jim and I should not get each other gifts until December 26, you get so much bang for your buck with the clearance items! Speaking of which, I have to share a few of the fun finds from the past few days.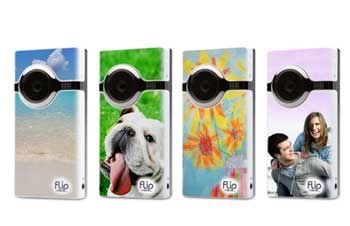 For Christmas, Jim got me a Flip camcorder. It should arrive tomorrow. It's so easy to shoot, record, and upload directly to the blog or You Tube. With Jim's family in Georgia this will be a great tool! Plus I am sure it will come in handy for blogging too.:) You can actually personalize your own Flip with a family photo or customized pic. We tried but couldn't find the right picture to use, plus I wanted the underwater case and the personalized Flip (Mino) is not compatible with the kind that uses the underwater case so…Ultra HD it was.
My other two exciting purchases came from Sephora. When I got a facial last year, the esthetician recommended getting at home chem peel pads, or micro pads. I especially need it because my skin is prone to breakouts and it not only combats that, but supposedly makes your skin have more of a "glow". Anyway, I found it to be true! I normally order the pads from Avon but my rep (aka…my mom) Lol skipped an order and I have been out. I really notice a difference in my complexion (even though I didn't use it every day) so I am trying this: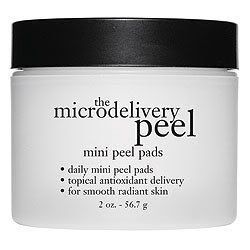 The lady at Sephora said it is the #1 choice and the price was right so…we'll give it a go! It's Philosphy Microdelivery Mini Peel Pads, and they should last a good two months (hopefully).
There are two things I can say have dramatically impacted my make-up life (Lol, it's true). The first was Bare Escentuals. I started using it about 5 years ago and I can't imagine my cosmetic life before it! It's been so great and light and easy to use. The second thing is primer. Unfortunately, giant pores are in my genes. Primer is like preparing a canvas and it smooths the pores and creates a nice surface for the foundation. It goes on better, stays on longer, and helps perfect your skin in all lights. I used Smashbox for a long time but have decided to try something new. It's "Makeup Forver HD Primer". Sephora lady said most primers are actually the same, it consists of a few ingredients and the rest is the brand name. This was a bit cheaper than Smashbox so I had to go that route, and she said it is another award-winner so I'm trusting her choice!:)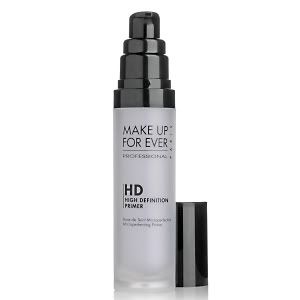 Well, I think that's about it. We are enjoying the snow and it's a blessing to have this weather while we can enjoy it from indoors and not have to drive in it.:) Happy last few days of 2009!