I wanted to post these pictures if, for no other reason, than to reiterate my love for the Pixar movie "Up".
Here is Carl Fredrickson at the premiere of the movie!

Russell!!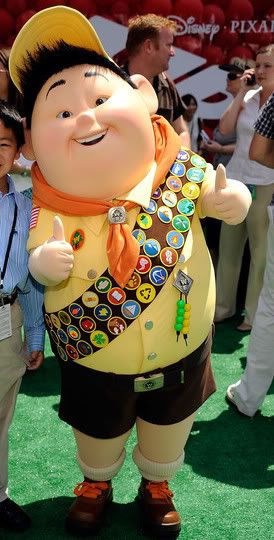 When we were at the nursing home visiting my aunts, I kept talking about this movie because I know they would love it! At some point I need to get them a copy. The life lessons, beauty, wisdom, humor and the moral of the story is truly priceless. I hope it gets a "Best Picture" Oscar, but in our house it has already earned the gold!
On another note, Grant is in love. Lol. A few months ago we heard an interview with pianist Yuja Wang. She was promoting her album and talking about her life as a young virtuoso. We bought him the CD for his birthday and it's been really neat to see him enjoy that type of music. When Gabriel tried piano a few years ago, I went to You Tube and we watched different dynamic performances to (hopefully) inspire him. It worked then, and now it's also good for Grant to see his piano pal Yuja in action! She is exceptional, it's incredible to watch. Here is a performance of "Flight of the Bumblebee". Fast fingers and she has it memorized…wow, wow, wow. I am still trying to figure out the Wii. Different mental planets for sure. Ha ha. Go girl!:)