We're back! It's been a whirlwind weekend with a fun, fast trip to Washington D.C.! A good friend of Jim's invited us to the premiere of the movie "Nine Days that Changed the World". It's a movie about Pope John Paul II's historic visit to Poland in 1979. I learned so much, it was very inspiring!
Click here to see the trailer.
Anyway, this film was a labor of love for Newt and Callista Gingrich and they were the hosts of the premiere party on Friday. Our friend Brad worked with them on the movie and invited us to attend. Jim was excited about rubbing shoulders with political types, and I was excited to see a movie about Pope John Paul…so we were both happy for different reasons!:) Here are some photos from the evening.
The premiere took place at Mt. Vernon, the home of the Washington's. Here's Jim, hangin' with George!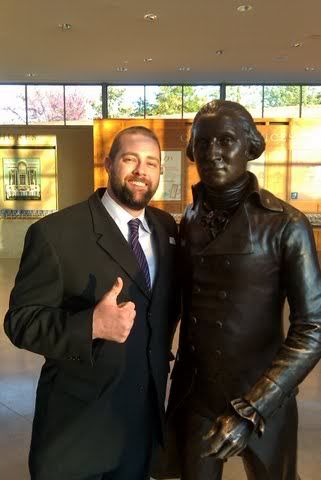 Newt and me

Here we are with Fr. Chris, and our friends Brad and Molly!


We spent and evening immersed in a film about the struggles and oppression of the Polish people, their hunger for freedom and all they have endured, and then the hope that Pope John Paul II gave them. We sat next to our priest, Fr. Chris who is from Poland and it was neat to hear his own memories from that time. Then today we heard about the horrible plane crash that has devastated the Polish people…yet again. May God be with them!
Due to our tight time frame, we weren't planning to do any sightseeing….this time. As we were heading out though, we took a wrong turn and literally ended up at the entrance to Arlington! There was no way we couldn't stop and walk around. So we took an abbreviated tour and it was a great way to wrap up the trip.

We made it just in time to see the changing of the guard at the Tomb of the Unknown Soldier. May God's Divine Mercy be upon our nation and all those who sacrificed that we may be free!