This week we kicked off our "Reading and Road Trips" summer book fun with the theme "Explorers". In my previous post, I wrote that it was a bust because we weren't able to go Geocaching as we had planned. Well, scratch that….we did it! Jim's cell phone is equipped with a GPS and we were able to use that for our "treasure hunting". It was a BLAST! If you are unfamiliar with Geocaching, click here to learn more at the official website. It was something our entire family could participate in, and we ended up being out until 9:30 searching our city for hidden cache's!
Here we are in a parking lot after discovering our first cache!
Another one….
We are all totally hooked! Even at Gabe's Little League game today, Jim was thrilled to uncover a cache at the baseball field! Lol. It's definitely a fun thing to do for all ages, our family is gives it a big "thumb's up" for sure.:)
Yesterday, as I was daydreaming during my long commute (Lol) I also thought of an idea to wrap up "Explorers" week, and today we did it. We read the story of Ferdinand Magellan and did a craft to go along with it.
Introducing: "Ferdinand MagJell-o"

I like projects like this, because even though I am artistically challenged, it's simple but hopefully effective. For the truly creative person, this could really become elaborate if you put some work into it. We learned a lot about Magellan, and ultimately, his sad death. Unfortunately, old "MaJell-o" didn't fare much better: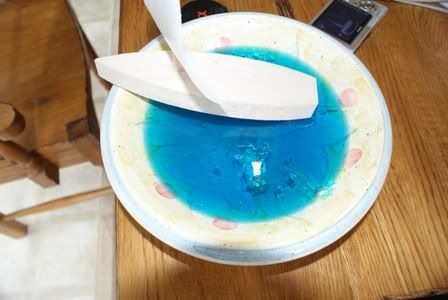 Did you expect anything else? Ha ha. 🙂