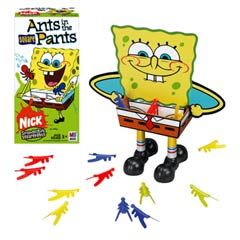 This SpongeBob game is the best! Grammie and Poppa gave it to the boys for Christmas and it has provided hours of family fun. Just flick the ants into S.B.'s pants and the person who gets all of their ants in first…wins! So simple that my 2 year old can easily understand and play in a competitive way. In fact he usually beats me! His little fingers are the perfect size for ant-flicking.:) If you are looking for a fun game for all ages, this gets our family's seal of approval!
Also, I ran across a neat concept for avid readers. It's a website called BooksFree.com where you pay a small yearly fee, then order as many paperback books as you like and they send them to you direct. Classic and new releases, no due dates or late fees, and free shipping! Basically like a Netflix with books. We love our local library but this is definitely a cool concept!
Feeling pretty sore today. My neck in particular is really hurting. I've talked to people who have had lingering shoulder, and back injuries from an accident and I'm hoping mine is just the "day after" stiffness. My mom has a soft neck wrap with lavender inside that you heat up and that has been very helpful. Thanks for your e-mail and prayers, I really do appreciate it.:) God bless you.